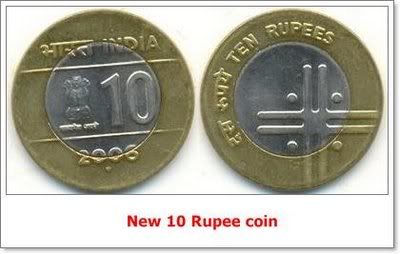 The Reserve Bank of India (RBI) has launched 10 Rupee coins. The 10 Rupee bimetallic coins will be available in the market soon. The coins comprise of Nickel-Bronze and Ferrous Steel. The weight of the coin is 8 grams and the diameter is 28 mm. The 10 Rupee coins were supposed to be released three years ago, but were delayed due to some technical issues.
The new 10 Rupee coin has the lion capitol, the numeric 10 and the year of manufacturing on one side. On the reverse side, there is a double line cross with a dot in each pellet of cross. The value of the coin is indicated on both Hindi and English.
The 10 Rupee coin was designed by National Institute of Design (NID), Ahmedabad with the theme of Unity in Diversity. The coins are being prepared at Noida and Mumbai mints.